I've long adored unique, one-of-a-kind items — perhaps that is why I'm addicted to antiques and junking. But I must admit that when then-stranger Robin Apple called me asking for advice on how she could market her painted rocks, I was a tad skeptical. Robin was given my contact information from one of the more popular estate sale agents in central Arkansas.
During our call, Robin described her painted rocks. She said the rocks are painted to look like animals and are an approximation of the shape of the animal to be painted. She also said they are painted so realistically that people have mistaken her rocks for live animals! My worst fear at this point was that her opinion of her work wouldn't be shared by possible customers and that she would be disappointed. The other side of the situation would be that I would be able to meet a very talented artist and help get her work on the Internet.
Robin lives here in Maumelle, so despite my skepticism, I decided to stop by her house that evening… Boy, am I glad I did!  From the moment I parked in front of her house, I knew I was in for a treat. I found out later she built that home over twenty years ago before any other homes had been built on that street. Therefore, her home was designed to her amazing taste. When I stepped inside her home I was in awe — Robin is truly a collector!   Along with her collections, her home is decorated with her beautiful realistic wildlife paintings. When she told me she practically furnished her home with estate sale finds, you know I was intrigued!
I had so much fun looking at her stuff and talking with her that I stayed for around 2 hours! She had all of the most up-to-date gossip on the behind-the-scenes goings-on of virtually all of the estate sale/auction agents here in central Arkansas. We also talked about different estate sales we've been to lately and she had been to all the ones I brought up, so there's no telling how many times we've been at the same estate sales at the same time!
I have kept you all waiting long enough, so now it's time to talk about these amazing painted rocks. Robin is inspired by the shape of each rock she hand-selects from Arkansas river beds and forests, so they almost look like the real thing.  What would you think if you came upon this opossum?
Or this raccoon?
This deer is really neat too!
Robin has been a wildlife rehabilitator for years. She introduced me to three woodpeckers and a chickadee she houses in her sunroom. The beautiful birds were unable to learn the skills necessary to live in the wild, so they are under the care of Robin, who I can just about guarantee has them spoiled!! I can imagine that all the animals she has helped has probably inspired all the intricate details in her work!
I think one of these would be awesome in my flower garden. What do you think?
See part 2 of this post.. Robin also illustrates children's books!
I'm linking up to these great blogs this week:
Tidy Mom
Life As Lori
Fireflies and Jellybeans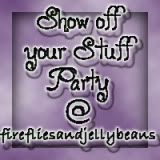 These Creative Juices

Today's Creative Blog

The Inspired Room